ESS - Crossblade 2LS Kit - Black - Clear & Smoke
Replace or return up to

30

days
Check availability in the stationary store
ESS - Crossblade 2LS Kit - Black - Clear & Smoke
Crossblade ballistic goggles from the Cross-Series line. They have two visors, one standard transparent and tinted. Thanks to ClearZone Dual Flow Coated technology the glasses are highly resistant to evaporation and scratching.
NOTICE: As part of the ESS Cross-Series™ platform, all Crossblade™ visors are compatible and interchangeable with ESS Crossbow®, Crosshair™ and Suppressor™ frames. Crossblade™ Standard and Crossblade™ NARO nosepads are NOT compatible with other Cross-Series products.
Standards:
Conforms to the American Civil Standard ANSI Z87.1 - 2015
Conforms to US Army MIL SPEC MIL-PRF-32432
Conforms to European CE EN166 standard
Conforms to US Federal OSHA
Features:
Modular™ Fit technology to optimize the fit of the goggles to the shape of your face: its width, eye span and nose width
Cross-Series™ Compatibility - the ability to change to another visor in the series or to the ultra-thin Suppressor™ frames, which provide a perfect interaction with hearing protectors and communication systems
Resistant to damage and deformation ballistic first optical grade visor made of polycarbonate
Crossblade™ visor made with ESSOPTICS™ standard, free of any distortion and guaranteeing 100% UVA and UVB protection
ClearZone™ Dual Flow Coated technology to protect the visor from scratches and evaporation
The DedBolt™ snap-on system for easy and very fast replacement of the visor - it is mounted by means of profiled notches on its ends and a hole in the middle
Flexible frames with Tri-Tech Fit™ technology for maximum comfort and no pressure points
Convenient, interchangeable composite-silicone nose pad; NOTE: Crossblade™ Standard and NARO nose pads are not compatible with the Cross-Series™ platform
Able to attach an additional elastic strap to protect glasses from loss
Corrective inserts U-RX™ and UPLC Rx available - these require dedicated nose pads (Crossblade U-Rx and Crossblade UPLC Rx) which must be purchased separately
Included:
Crossblade™ frames
Clear viewer
Smoke Gay viewer
One nosepieces
Case
Elastic safety strap
Bag for glasses
Technical data:
Model
EE9032-02
Frame color
Black
Viewer color
Clear and Smoke Gray
Weight
34 g
ESS LENS CHART
Please familiarize with ESS Lens Chart presenting the Visible Light Transmittance for all lens models of the company. It will let you choose lens tints and VLTs dependent upon your most-frequented environments.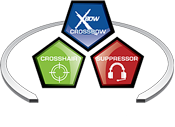 Frequently asked questions
How can I contact with shop customer service?
The best solution is to send an e-mail to infospecshop.pl It is also possible to contact us by phone from Mon. to Fri. 9.00a.m. - 5.00p.m. The number +48 533 372 997 combines the contact to shop customer service and service.
What payment methods do you support?
In the case of a stationary store, of course, by card or cash, while online orders can be paid by BLIK, credit card, online transfer and PayU installments, PayPal, traditional transfer or PayPo deferred payment.
How many days do I have to return the product?
The statutory period for returning online orders is 14 days, however for your comfort we have extended this period to 30 days from the day of purchase.
Is overseas delivery possible?
Yes, we offer delivery throughout the European Union, we use UPS and GLS, costs as per the price list.

For shipping to Germany, Austria, Czech Republic, Romania, Hungary, Netherlands free delivery is available for purchases over €99 and for other selected countries over €199*.
Why the difference in order processing times?
We use several warehouses, including external ones, so in order to complete an order we sometimes need a few days to bring some products.
What do order statuses mean?
Pending Delivery: At least one of the products you ordered needs to be moved from an outside warehouse. This generally extends the lead time by 1-5 days.

Pending payment: Your order is pending payment. Once your payment has been posted, we will begin processing it immediately.

Packed: Your order is being assembled in our warehouse. It will be forwarded for shipment shortly.

Ready to ship: Your order has been packed and is awaiting pickup by courier.

Stopped: Your order is being held up. This may be due to the goods you have ordered not being in stock. Please contact our Customer Service team.